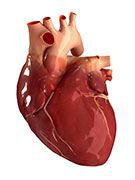 ¿Qué es la enfermedad del corazón?
Muchas enfermedades pueden afectar el corazón. Estas incluyen enfermedades de los vasos sanguíneos del corazón (conocidas como enfermedades de las arterias coronarias), problemas con el ritmo del corazón (conocidos como arritmias) y enfermedades de las válvulas del corazón. Con frecuencia, usamos el término "enfermedad del corazón" para indicar una enfermedad de las arterias coronarias (EAC).
¿QUE SENTIRÍA SI TUVIERA ENFERMEDAD DEL CORAZÓN EN LOS VASOS SANGUÍNEOS? (EAC)?
Dolor en el pecho
Dificultad para respirar
Brazo izquierdo insensible o dolorido
Mandíbula insensible o dormida
Si tiene alguno de estos síntomas cuando está haciendo ejercicio, pare su ejercicio y busque atención medica. Si persiste a pesar de estar descansando, podría ser un síntoma de ataque del corazón lo que es una emergencia.
¿QUÉ AUMENTA EL RIESGO DE EAC?
Niveles altos de azúcar en la sangre (diabetes)
Presión sanguínea alta (hipertensión)
Historial familiar de EAC
Colesterol alto
Fumar
Edad avanzada
Estrés
Inactividad física
Mala alimentación
Consumo de alcohol excesivo
Obesidad (sobrepeso)
¿QUÉ PUEDO HACER PARA REDUCIR EL RIESGO?
Dejar de fumar
Aumentar la actividad física
Seguir una dieta para un corazón saludable
Perder peso
Limitar el consumo de alcohol
DEJAR DE FUMAR

Hable con un profesional de salud sobre su motivación y los dificultades en dejarlo. Trate de empezar reduciendo el número de cigarrillos que fuma cada día. Llame al 877-44U-QUIT (877-448-7848) para recibir consejos sobre cómo dejar de fumar.
LA ACTIVIDAD FÍSICA
La Asociación Americana del Corazón recomienda 30 minutos de ejercicio moderado 5 veces a la semana. Busque algo que le guste, como:

Caminar deprisa
Jardinería
Andar en bicicleta
Ejercicio aeróbico en el agua
LAS TERAPIAS FÍSICO-ESPIRITUALES PARA MANEJAR EL ESTRÉS
Yoga, meditación y tai chi reduce el estrés y mantiene la buena forma física.
Hipnosis le ayuda a dejar de fumar.
ALIMENTACIÓN SALUDABLE PARA EL CORAZÓN
Hay muchas dietas y alimentos que pueden prevenir la enfermedad del corazón. Consulte con un profesional de salud sobre lo que le conviene más a usted.
La dieta mediterránea puede disminuir la probabilidad de EAC. Incluye vegetales abundantes, grasas saludables como el aceite de oliva y mucho pescado.
La dieta DASH puede reducir la presión sanguínea. Incluye fruta y vegetales abundantes, alimentos con mucha fibra, y bajo consumo de sal.
¡Comer nueces con regularidad pueden mantener el corazón sano!
¿HAY SUPLEMENTOS HERBALES O DIETÉTICOS QUE DEBERÍA TOMAR?
Antes de tomar una hierba o suplemento nutricional consulte con un profesional de salud. Por ejemplo, si tiene insuficiencia cardíaca congestiva, el suplemento nutricional coenzima Q10 puede ayudarle pero también puede tener efectos secundarios adversos.
Versión Impresa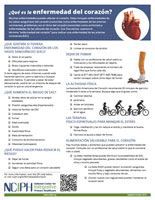 Referencias / Recursos
Bjelakovic, G, Nikolova, D, & Gluud, C (2013). Antioxidant supplements to prevent mortality. JAMA, 310(11), 1178-1179.
Chang, MY, Yeh, SC, Chu, MC, Wu, TM, & Huang, TH (2013). Associations between Tai Chi Chung program, anxiety, and cardiovascular risk factors. American Journal of Health Promotion, 28(1), 16-22.
Estruch, R, Ros, E, Salas-Salvadó, J, Covas, MI, Corella, D, Arós, F, ... & Lamuela-Raventos, RM (2013). Primary prevention of cardiovascular disease with a Mediterranean diet. New England Journal of Medicine, 368(14), 1279-1290.
Gaziano, JM, Ridker, PM, & Libby, P (2012). Primary and secondary prevention of coronary heart disease. Braunwald's Heart Disease: A Textbook of Cardiovascular Medicine. 9th ed. Philadelphia, PA: Saunders, 1010.
Hasan, FM, Zagarins, SE, et al. (2014). Hypnotherapy is more effective than nicotine replacement therapy for smoking cessation: Results of a randomized controlled trial. Complementary therapies in medicine, 22(1), 1-8.
Kwong, JS, Lau, HL, Yeung, F, Chau, PH, & Woo, J (2015). Yoga for secondary prevention of coronary heart disease. The Cochrane database of systematic reviews, 6, CD009506.
Lopez-Garcia, E, Rodriguez-Artalejo, F, Li, TY, Fung, TT, Li, S, Willett, WC, ... & Hu, FB (2014). The Mediterranean-style dietary pattern and mortality among men and women with cardiovascular disease. The American journal of clinical nutrition, 99(1), 172-180.
Manchanda, SC, & Madan, K (2014). Yoga and meditation in cardiovascular disease. Clinical Research in Cardiology, 103(9), 675-680.
Prasad, K, Sharma, V, Lackore, K, Jenkins, SM, Prasad, A, & Sood, A (2013). Use of complementary therapies in cardiovascular disease. The American journal of cardiology, 111(3), 339-345.
Rabito, MJ, & Kaye, AD (2013). Complementary and alternative medicine and cardiovascular disease: an evidence-based review. Evidence-Based Complementary and Alternative Medicine, 2013.
Richardson, S, Shaffer, JA, Falzon, L, Krupka, D, Davidson, KW, & Edmondson, D (2012). Meta-analysis of perceived stress and its association with incident coronary heart disease. The American journal of cardiology, 110(12), 1711-1716.
Rizos, EC, Ntzani, EE, Bika, E, Kostapanos, MS, & Elisaf, MS (2012). Association between omega-3 fatty acid supplementation and risk of major cardiovascular disease events: a systematic review and meta-analysis. JAMA, 308(10), 1024-1033.
Schneider, RH, Grim, CE, Rainforth, MV, Kotchen, T, Nidich, SI, Gaylord-King, C, ... & Alexander, CN (2012). Stress reduction in the secondary prevention of cardiovascular disease randomized, controlled trial of transcendental meditation and health education in Blacks. Circulation: Cardiovascular Quality and Outcomes, 5(6), 750-758.
Steptoe, A, & Kivimäki, M (2013). Stress and cardiovascular disease: an update on current knowledge. Annual review of public health, 34, 337-354.
Tahiri, M, Mottillo, S, Joseph, L, Pilote, L, & Eisenberg, MJ (2012). Alternative smoking cessation aids: a meta-analysis of randomized controlled trials. The American journal of medicine, 125(6), 576-584.
Tang, G, Wang, D, Long, J, Yang, F, & Si, L (2015). Meta-analysis of the association between whole grain intake and coronary heart disease risk. The American journal of cardiology, 115(5), 625-629.
Ye, Y, Li, J, & Yuan, Z (2013). Effect of antioxidant vitamin supplementation on cardiovascular outcomes: a meta-analysis of randomized controlled trials. PLoS One, 8(2), e56803.
Zhu-ye Gao, Yu Qiu, Yang Jiao, Qing-hua Shang, Hao Xu, and Da-zhuo Shi, "Analysis on Outcome of 3537 Patients with Coronary Artery Disease: Integrative Medicine for Cardiovascular Events," Evidence-Based Complementary and Alternative Medicine, vol. 2013.
Materiales para la Educación del Paciente