What are probiotics?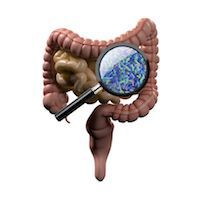 Probiotics are "good" bacteria or yeast that support our health. Many of these organisms are part of a healthy digestive system (microbiome). Probiotics can be found in fermented foods like yogurt, sauerkraut, kombucha, and as supplements.
Why take probiotics?
There are many reasons why people take probiotics. Some reasons are backed by science. Others are just claims at this time. We still have a lot to learn
Here are some reasons shown by science to take certain probiotics:
To prevent diarrhea from antibiotics or infections
For irritable bowel syndrome: to help with abdominal pain and bloating
To prevent or treat eczema
To prevent the common cold and flu, and lessen symptoms
How do probiotics work?
We think that probiotics may work by crowding out "bad" bacteria, yeasts and parasites in our bodies with "good" bacteria and yeasts. Or probiotics may encourage our immune systems to be alert for threats.
Are probiotics safe?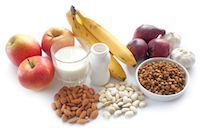 For healthy people, taking probiotics is safe. However, some people with very weak immune systems could get seriously ill. Supplements are not monitored by the FDA. This means quality is unknown, and the claims on the bottle are often not backed by research. Talk to your healthcare professional about which type of probiotic might be best for you.
How much should I take?
There is still so much to learn about probiotics, like which to take for certain conditions, and at what dose. Some general probiotic tips:
Many foods are naturally probiotic. While these foods are part of a healthy diet, they may not have enough dose in a serving to help with a given condition. That may be the time to consider a supplement.

Try: cultured yogurts, kefir, fermented pickles and sauerkraut, kimchi, kombucha, and other fermented foods.

If going with a supplement, be sure to do your research about which strain is best for your condition.
A dose of at least 5-10 billion CFU (Colony Forming Units) per day is usually required to see results.
Make sure you check to see if the probiotic you buy needs to be refrigerated. Some high quality products do need this, but others do not.
Store your supplements in a cool, dark, dry place.
If taking probiotics to avoid diarrhea from antibiotics, be sure to start within 2-3 days of starting the medication. Keep taking the probiotics for a week after you finish the medication.
It is safe for kids to take quality probiotics daily during the cold and flu season. This has been shown to decrease the length of respiratory and intestinal infections.
Consider bringing a probiotic on your next trip abroad to avoid traveler's diarrhea. Start taking it before you arrive, and continue to take it every day.
What about brands?
There are many brands of probiotics. To find a list of some probiotics rated by quality, safety, and price, go to: https://labdoor.com/rankings/probiotics
Print Version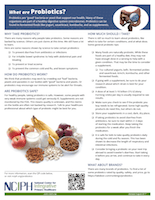 References/Resources
MORE INFORMATION:
Mayo Clinic National Center for Complementary and Integrative Medicine
REFERENCES:
Alipour B, Homayouni-Rad A, Vaghef-Mehrabany E, Sharif SK, Vaghef-Meharbany L, Asghari-Jafarabadi M, et al. Effects of Lactobacillus casei supplementation on disease activity and inflammatory cytokines in rheumatoid arthritis patients: a randomized double-blind clinical trial. Int J Rhem Dis. 2014 Jun;17(5):519-27. Doi: 10.1111/1756-185X.12333.
Bruzzese E, Fedele MC, Bruzzese D, Viscovo S, Giannattasio A, Mandato C, et al. Randomised clinical trial: a Lactobacillus GG and micronutrient-containing mixture is effective in reducing nosocomial infections in children, vs. placebo. Aliment Pharmacol Ther. 2016 Sep;44(6):568-75. Doi:10.1111/apt.13740.
Costa DJ, Marteau P, Amouyal M, Poulsen LK, Hamelmann E, Cazaubiel M, et al. Efficacy and safety of the probiotic Lactobacillus paracasei LP-33 in allergic rhinitis: a double-blind, randomized, placebo-controlled trial (GA2LEN Study). Eur J Clin Nutr. 2014 May;68(5):602-7. Doi: 10.1038/ejcn.2014.13.
Derikx LA, Dieleman LA, Hoentjen F. Probiotics and prebiotics in ulcerative colitis. Best Pract Res Clin Gastroenterol. 2016 Feb;30(1):55-71. Doi:10.1016/j.bpg.2016.02.005.
Didari T, Solki S, Mozaffari S, Nikfar S, Abdollahi M. A systematic review of the safety of probiotics. Expert Opin Drug Saf. 2014 Feb;13(2):227-39. Doi: 10.1517/14740338.2014.872627.
Didari T, Mozaffari S, Nikfar S, Abdollahi M. Effectiveness of probiotics in irritable bowel syndrome: Updated systematic review with meta-analysis. World J Gastroenterol. 2015 Mar 14;21(10):3072-84. Doi: 10.3748/wjg.v21.i10.3072.
Du YQ, Su T, Fan JG, Lu YX, Zheng P, Li XH, et al. Adjuvant probiotics improve the eradication effect of triple therapy for Helicobacter pylori infection. World J Gastroenterol. 2012 Nov 21;18(43):6302-7/ Doi: 10.3748/wjg.v18.i43.6302.
Fuentes MC, Lajo T, Carrion JM, Cune J. Cholesterol-lowering efficacy of Lactobacillus plantarum CECT 7527, 7528 amd 7529 in hypercholesterolaemic adults. Br J Nutr. 2013 May 28;109(10):1866-72. Doi:10.1017-S000711451200373X.
Goldenberg JZ, Lytvyn L, Steurich J, Parkin P, Mahant S, Johnston BC. Probiotics for the prevention of pediatric antibiotic-associated diarrhea. Cochrane Database Syst Rev. 2015 Dec 22;(12):CD004827. Doi:10.1002/14651858.CD004827.pub4.
Hilton E, Kolakowski P, Singer C, Smith M. Efficacy of Lactobacillus GG as a diarrheal preventive in travelers. J Travel Med. 1997 Mar 1;4(1):41-43. PMID: 98154765.
Jones ML, Martoni CJ, Prakash S. Cholesterol lowering and inhibition of sterol absorption by Lactobacillus reuteri NCIMB 30242L a randomized controlled trial. Eur J Clin Nutr. 2012 Nov;66(11):1234-41. Doi:10.1038/ejcn.2012.126.
Lau CS, Ward A, Chamberlain RS. Probiotics improve the efficacy of standard triple therapy in the eradication of helicobacter pylori: a meta-analysis. Infect Drug Resist. 2016 Dec 7;9:275-289. Doi:10.2147/DR.S117886.
Leyer GJ, Li S, Mubasher ME, Reifer C, Ouwehand AC. Probiotic effects on cold and influenza-like symptom incidence and duration in children. Pediatrics. 2009 Aug;124(2):e172-9. Doi:10.1543/peds.2008-2666.
Lue KH, Sun HL, Lu KH, Ku MS, Shen JN, Chan CH, Wang YH. A trial of adding Lactobacillus johnsonii EM1 to levocetirizine for treatment of perennial allergic rhinitis in children aged 7-12 years. Int J Pediatr Otorhinolaryngol. 2012 Jul;76(7):994-1001. Doi: 10.1016/j.ijporl.2012.03.018.
McFarland LV. Meta-analysis of probiotics for the prevention of traveler's diarrhea. Travel Med Infect Dis. 2007 Mar;5(2):97-105. Doi: 10.1016/j.tmaid.2005.10.003.
Mousa HA. Prevention and treatment of influenza, influenza-like illness, and common cold by herbal, complementary, and natural therapies. J Evid Based Complementary Altern Med. 2017 Jan;22(1):166-74. Doi: 10.1177/2156587216641831.
Ortiz-Lucas M, Tobias A, Saz P, Sebastian JJ. Effect of probiotic species on irritable bowel syndrome symptoms: a bring up to date meta-analysis. Rev Esp Enferm Dig. 2013 Jan;105(1):19-36. PMID: 23548007.
Pedersen N, Andersen NN, Vegh Z, Jensen L, Ankersen DV, Felding M, et al. Ehealth: low FODMAP diet vs Lactobacillus rhamnosus GG in irritable bowel syndrome. World J Gastroenterol. 2014 Nov 21;20(43):16215-26. Doi:10.3748/wjg.v20.i43.16215.
Pelucchi C, Chatenoud L, Turati F, Galeone C, Moja L, Bach JF, et al. Probiotics supplementation during pregnancy or infancy for the prevention of atopic dermatitis: a meta-analysis. Epidemiology. 2012 May;23(3):402-14. Doi:10.1097/EDE.0b013e31824d5da2.
Recine N, Palma E, Domenici L, Giorgini M, Imperiale L, Sassu C, et al. Restoring vaginal microbiota: biological control of bacterial vaginosis. A prospective case-control study using Lactobacillus rhamnosus BMX 54 as adjuvant treatment against bacterial vaginosis. Arch Gynecol Obstet. 2016 Jan;293(1):101-7. Doi: 10.1007/s00404-015-3810-2.
Szajewska H, Kolodziej M. Systematic review with meta-analysis: Saccharomyces boulardii in the prevention of antibiotic-associated diarrhoea. Aliment Pharmacol Ther. 2015 Oct;42(7):793-801. Doi: 10.1111/apt.13344.
Urbanska M, Gieruszczak-Bialek D, Szajewska H. Systematic review with meta-analysis: lactobacillus reuteri DSM 17938 for diarrhoeal diseases in children. Aliment Pharmacol Ther. 2016 May;43(10):1025-34. Doi: 10.1111/apt.13590.
Wang IJ, Wang JY. Children with atopic dermatitis show clinical improvement after Lactobacillus exposure. Clin Exp Allergy. 2015 Apr;45(4):779-87. Doi:10.1111/cea.12489.
Wu YJ, Wu WF, Hung CW, Ku KS, Liao PF, Sun HL, et al. Evaluation of efficacy and safety of Lactobacillus rhamnosus in children aged 4-48 months with atopic dermatitis: an 8-week, double-blind, randomized, placebo-controlled study. J Microbiol Immunol Infect. 2015 Nov 27.Pii:S1684-1182(15)00898-1. Doi:10.1016/j.jmii.2015.10.003.
Ya W, Reifer C, Miller LE. Efficacy of vaginal probiotic capsules for recurrent bacterial vaginosis: a double-blind, randomized, placebo-controlled study. Am J Obstet Gynecol. 2010 Aug;203(2):120.e1-6. Doi:10.1016/j.ajog.2010.05.023.
Yoon JS, Sohn W, Lee OY, Lee SP, Jun DW, Lee HL, et al. Effect of multispecies probiotics on irritable bowel syndrome: a randomized, double-blind, placebo-controlled trial. J Gastroenterol Hepatol. 2014 Jan;29(1):52-9. Doi:10.111/jgh.12322.
Zhang Y, Li L, Guo C, Mu D, Feng B, Xuo X, Li Y. Effects of probiotic type, dose and treatment duration on irritable bowel syndrome diagnosed by Rome III criteria: a meta-analysis. BMC Gastroenterol. 2016 Jun 13;16(1):62. Doi: 10.1186/s12876-016-0470-z.
Patient Education Materials